If you are looking to create your very own .com.np domain then you are just at the right place. The domain Apart from .com.np domain you can also register other domains such as .edu.np, .gov.np, .org.np, .biz.np etc. And the best part is it's completely free and you can do it by yourself from the comfort of your home.
Even if you are getting help from others to create your own domain name it shouldn't charge you more than Rs 500 so be careful not to get cheated in the name of domain registration. Nepali Citizens, Non-Resident-Nepalese can apply for .np domains through Mercantile Communications Pvt. Ltd. So, let's get started with creating your own .np domain.
First of all, let's start with the stuff that you will need to create a .com.np domain.
For Personal Domain (for example sahanmaharjan.com.np)
1.Scanned copy of your Identity.i.e. Nepalese citizenship, driving license, passport or voter's card.
2. Email address
3. Internet Connection
For Corporate Domain(for example codxective.com.np)
PAN certificate and company registration certificate of the company.
2. Cover letter of the company.
Besides these, you will also have to purchase web hosting and obtain a name server from a web hosting provider.
Step 1: Check if Domain name is available
To check whether the domain name is available, go to the website: http://register.com.np/. Then you will see check Domain Availability Option with an input text field and drop-down domain extension.
Case 1: If the domain name is available click on Register now.
Case 2: If the domain name is not available, retry with another domain.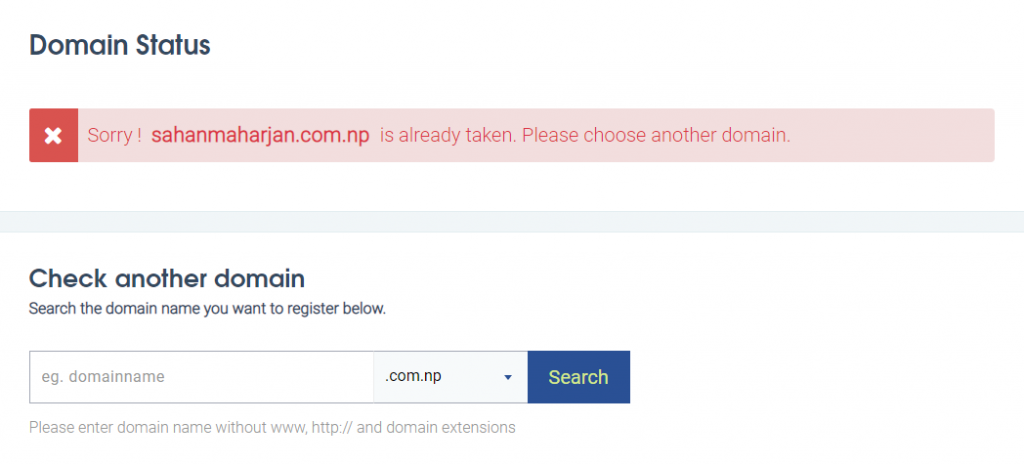 Step 2: Click on Create User
Fill up all your details and click on create an account.
After clicking on creating an account with all the details filled, you will get the success message as shown below.
Step 3: Check Your Email for confirmation
Now that you have officially asked Mercantile to register your domain name and got the success message as above, you'll need to confirm your request via email for further processing. Do check your email that you have provided in the registration and You'll see email as shown below. Click on the verify button to confirm.
Step 4: Sign in with your recently created account
Step 5: Now Fill up all the Domain Request Form
After that what you need to do is provide a valid primary nameserver and secondary name server for your domain repository. If you don't have it yet, you can enter the nameserver given below for now. Later, you can always change the nameservers from the admin panel.
Primary nameserver: ns1.ehostingserver.com
Secondary nameserver: ns2.ehostingserver.com
You are nearly done so have some patience. Now you will need to Fill up Administrator Full Name, Address, and Phone Number. Note, you are the Administrator of your domain. So, don't get confused. Click Submit after editing Administrative Contact information.
Step 6: Upload your required documents
I hope you have your documents ready. i.e scanned copy of your Citizenship or Licence or Passport. Any of the above will work but make sure you edit your scanned image with the instruction provided in the box.
For example, if you have your scanned copy of citizenship and your domain name is sahanmaharjan.com.np, then you should rename your scanned image with sahanmaharjan.com.np_citizenship.jpg.
You will also need to upload a cover letter for which the sample is given below.
To                                                   Date: 1th October 2019
The Host Master
NPccTLD Registration Services
MERCANTILE COMMUNICATIONS PVT. LTD.
Hiti Pokhari, Durbarmarg, Kathmandu, Nepal

            Subject: Application for receiving free .np domain
Namaste Sir/Madam,
I would like to register .com.np/edu.np (Your desired domain) domain for my personal/business use. I have already submitted my personal/official details. I have also attached my citizenship/PAN Card/ Company Registration Certificate.
I would be very glad if you approve my domain registration request. Thank you very much for consideration.
My requested domain name is: your-requested-domain.com.np

Your Sincerely
Your Name
Signature
Congratulations you have officially submitted a domain request form for approval which will take around 2 -3 business days. However, you will instantly receive an email notification whether your domain is ready to use or has been declined. If your domain request is rejected, they will give you the reason why your domain is rejected.
NOTE: If your domain request is approved, you'll need to have Separate Web Hosting to store your domain. I will happily help you with finding one. Just don't hesitate to comment in the form below.